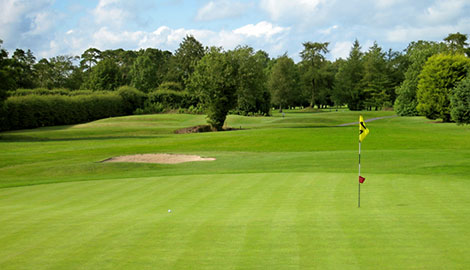 The Petawawa Golf Club officially opened its doors in 1963 as a 9 hole golf course with a small club house at the end of Ypres Trail . The design and construction were done exclusively by the military. In 1968 a new clubhouse was constructed at the top of the hill where members and guests still enjoy this million dollar view overlooking the Ottawa River and province of Quebec. The course was upgraded in 1990 when Graham Cook was hired to redesign the existing 9 holes and expand the course to 18. The resulting par 71 is a fun yet challenging golf course for all skill levels
Petawawa is very proud to host the Earl Gray Invitational golf tournament. Earl was a military member who volunteered his time to assist in the building of the original nine holes. In 1964 he died on the golf course when a piece of heavy equipment rolled on top of him. Later that year a small group of Earl's buddies began this two day event in honour of their friend. To our knowledge it is the longest running 2 day event in Ontario. Today the Petawawa Golf Club challenges the skills of all level of players. Playing from the blue tees with yardages that stretch to 6500 yards, this Graham Cook lay-out demands precision shot making. Moving forward to the white tees at 5900 yds. or our ladies markers at 5200 this course offers a friendly challenge to all players.
The Petawawa Golf Club is a public golf course where all are welcome to play, or to just drop in for a delicious meal or beverage and enjoy the magnificent view. We welcome everyone to join us at our improved facility both on the course and in the club house. We think you'll agree that it is the biggest hidden secret in the Ottawa Valley.

Image provided by www.benchcraftcompany.com
Scorecard